Craving the freedom of the freelance life with no clue how to get there? Bursting with stories but unsure how to get them commissioned? Tired of sending pitches that never get responses?
Join Lauren Razavi, an award-winning freelance writer and editor, for this special-edition Learn With Launchpad course which will take you on the journey from dreaming of freelance success to earning an enviable income as a freelancer.
In Building Your Dream Freelance Career, you'll learn how to spot stories, how to devise the right angle, and how to approach an editor with your winning idea. By the end of the course you'll be practiced and comfortable dealing with magazine and newspaper editors, and be ready to start building relationships that will see your work regularly appear in print and online.
Who is this course for?
If you've wondered the following, this course is for you:
How can I get editors to read my emails?

Why do I never get responses?

Where can I find more places to pitch?

How can I craft multiple, sellable stories from this one idea?

What's an angle on this story that will make editors tick?
Whether you're just starting out in freelancing, or an established writer looking to maximize your income, the career management tips offered in the course are designed to send your freelance earnings sky-high. It's perfect for anybody who wants the freedom of the freelance life.
What will I learn?
You'll learn everything you need to spot stories, pitch them to editors and get paid for writing them.
Generating Story Ideas: No-one gets commissioned without a good idea. Under Lauren's expert guidance, you'll move through the various stages of story ideation, learning how to look critically at your pitch in the same way an editor would, and learn to spot pitfalls before they happen.

Successful Pitching: Editors are busy people - pitching well is an art form, and to be successful in this business, you'll need to be good at it. In this unit, you'll devise a pitch around the story that you've created, using Lauren's experience and success formula to deliver a compelling pitch an editor won't be able to resist.
Delivering Great Stories: Post-pitch, you'll be expected to deliver the goods and deliver them well. Great stories are the key to repeat commissions, so you'll learn what drives a story, what an audience wants to read, how to keep your readers engaged and how to work with sources to write pieces that you can be proud of, every single time.
Marketing Yourself: Every successful journalist has a brand - whether they're in control of it or not. In this unit, learn how Lauren and others set career goals which act as a blueprint for freelancing success, how to build a publication-independent audience of your own and which resources you should be using regularly to ensure that your visibility stays high.
Is that all?
Actually, it's not!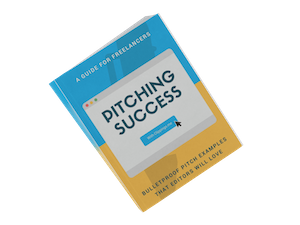 Join this class now and you'll get Pitching Success, the latest course accompaniment containing 15 successful pitches to editors compiled into a free workbook. These word-for-word scripts are fully customizeable, and already proven to work.

Joining this class gives you access to our awesome Learn with Launchpad Facebook group, a hotbed of lecturers and students all there to help you grow your writing career. In this lively group, you can ask questions, receive feedback and meet other writers building their careers with Launchpad.

You'll also get our PDF pitch template, a cut-out-and-keep guide to nailing your pitch every time. Armed with the template, you'll be ready to draft multiple winning pitches that are tailored for each editor and will lay the groundwork for a long-lasting, profitable partnership.
Will I get feedback?
Yes! As part of the course all students will be tasked with writing a pitch and an article, both of which will receive detailed feedback from Learn With Launchpad's faculty. If you have a pitch that you're trying to nail or a story you're prepping for submission, this is your chance to get feedback from commissioning editors that will maximize your chances of success.
By the end of the course...
You'll have the knowledge and confidence to send out expertly-written pitches to exactly the right people. You'll know what makes a great story, and how to turn your first successful commissions into a repeatable workflow which will kickstart your career as a successful freelancer!